CLAIRE HODGSON
10th JUNE 1966 to 12th JANUARY 2003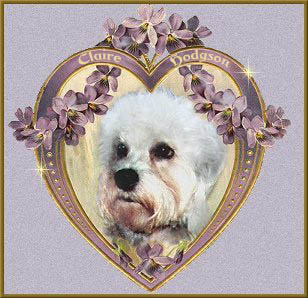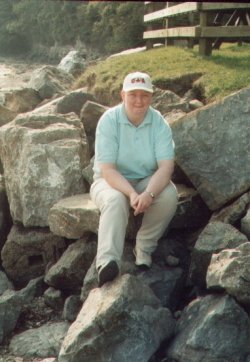 Claire.
We are always asking angels
To guard the joy of our life
To make sure you are happy
Free from worry and from strife
To kiss your forehead for us
If we are not about
To generally watch over you
A guardian angel looking out
We've asked them so many times now
And we know they take great care
To spread they're wings around and be forever
there.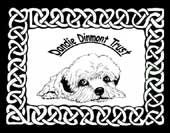 Claire Hodgson lived with a Dandie who had Glaucoma, the breed and the affliction left a feeling deep within her heart. Before Claire departed this earthly life she asked that donations in lieu of flowers be left to two beneficiaries, the Dandie Dinmont Trust being one of them. Below is a photograph of her mother Trish, 2nd left, receiving a donation which was raised by Claire's friends in her honour. We thank them all, we thank Claire whose kindness resulted in the Trust receiving over £1000. We send our love and sympathy to her family. Claire will be missed, her memory and her legacy live on.
Thank you Claire.