Breaking News!!
The team of Prof. Dr. Hannes Lohi from Finland
has analyzed the genotyping data for Glaucoma and it looks very promising. They
have a single locus in one chromosome and its is significant so they
believe it! This means they have mapped the Dandie's glaucoma gene but
have to work now hard to identify the actual mutation. This requires
lots of resequencing and it would help them a lot if we all could support
financially and especially by collecting as many blood of Dandies as
possible for their DNA bank. They need about 10-15000 euros for the resequencing.
Go to the website of The Dandie Dinmont Trust to learn more how you can help our Dandies from preventing Glaucoma.
CRUFTS 2008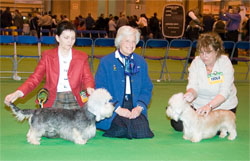 Judge: Mrs M Nicholson
BEST OF BREED
CH INZIEVAR SILVER GILT - left
BITCH CHALLENGE CERTIFICATE
CH CLOVERWOOD BORDER BELLE -right
Death of Dorine McQueen 14-1-2007
I met her at the 125th anniversary of the DDTC at Carlile in 2000 and she was such a sweet gentle lady. I admire her work and I have some pastels of her on my own. I also have a broche she made with a 1-hair pencil. Look at the photo's that I took of her stall at the 125th.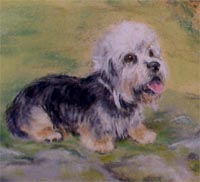 Last update: August 2014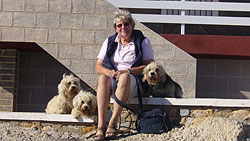 21 degrees C and sitting at the beach is the top of a Dandie Life!!
Many greetinngs to all Dandie lovers!
Ineke, Bo, Pepper and Puppel
A Tribute to The only Master Earthdog Dandie
in the USA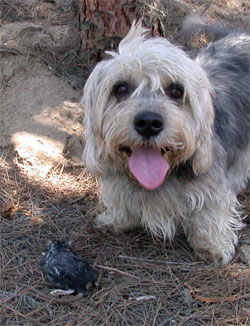 Dawsholm Devon Dancer
read more here >>>>
Audrey Heaton and her Hot Dogs in action at the 125th anniversary of The DDTC at Carlile 2000. What a great show!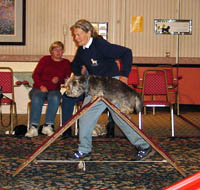 jumping over >> more
__________________